Catoosa County Planning Commission is considering a re-zoning and subdivision request for an 11 acre parcel on the southwest corner of Twin Cedars Rd and US Hwy 27. There is an additional plan for major reconstruction of the intersection, with turn lanes and traffic signals. None of this is favorable for local residents and property owners, nor is it necessary.
Zoning and Land Use of the Nevins parcel
County commercial land use and property zoning code is worded to favor promotion of intra-county commerce and residents' convenience. There is no justification on those grounds for commercial development of the Nevins parcel. It is situated in an extreme corner of the county, with mainly agricultural and large residential parcels. Therefore, commercial development would not serve a large number of Catoosa residents.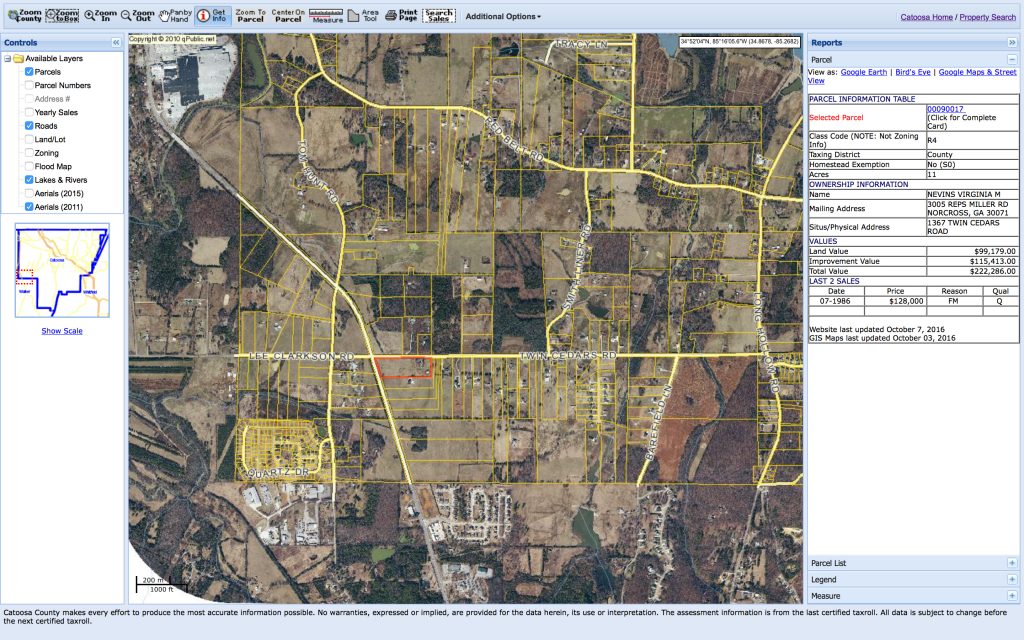 This corner of Catoosa can be thought of as "Watoosa," because it is a remote corner of the county, surrounded and served by Walker County commercial and manufacturing zones.
Rock Spring, Ringgold, Chickamauga, Fort Oglethorpe and Lafayette are nearby towns that provide for any commercial need.
There are already multiple commercial and manufacturing zones serving the area (though most are in Walker): Fieldstone Farms has small retail, office and dining. Red Belt/27/Lafayette Rd is a large commercial zone with all commercial (retail, dining, lodging, office) and heavy manufacturing uses. Four Corners (Red Belt/Long Hollow/Burning Bush/Three Notch) has light manufacturing, multi-unit, and small retail.
Traffic Safety and Planning for Twin Cedars Rd and Lee Clarkson Rd at Hwy 27
The Twin Cedars and US Highway 27 intersection is dangerous. Relatively heavy and fast traffic on 27, with poor lines of sight due to hills, dips and turns, makes left turns and crossing from the secondary roads very dangerous. Numerous accidents and fatalities support the argument for traffic controls at the intersection.
The current, narrow rights of way on Twin Cedars and Lee Clarkson cannot handle tractor-trailers, and will not accommodate turn lanes. Common thought favors expensive and extensive intersection improvements that will require re-zoning, property condemnation, state and county right-of-way expansion and heavy construction. However, none of this is necessary, and there is an existing and reasonable alternative.
There is no need for a traffic signal at Twin Cedars/27. There is no need for turn lanes on Twin Cedars and Lee Clarkson. I use that intersection every weekday for my commutes, and nearly every weekend to visit Chickamauga. However, I never turn left, and I never directly cross 27.
The safest current method is to never turn left, and never directly cross 27 from Twin Cedars or Lee Clarkson. It is much safer to only turn right from Twin Cedars and Lee Clarkson. That may sound stupid and restrictive, but it makes sense if you use Farming Rock Rd to make left turns. Farming Rock has much better lines of sight on 27, and has much better ingress/egress for turns.
To turn left toward Rock Spring from Twin Cedars:
either Use Farming Rock and Lee Clarkson,
or Take Long Hollow and Kay Conley. Those routes may add one minute to the drive time, but they are far safer.
To cross 27 from Twin Cedars:
Turn right on 27, left on Farming Rock, right on Lee Clarkson.
To cross 27 from Lee Clarkson:
Turn left on Farming Rock, right on 27, left on Twin Cedars.
My suggestion for intersection improvement:
Add signage, striping and pavement arrows only.
Dangerous Intersection signs on Hwy 27
Right Turn Only on Twin Cedars
Right Turn Only on Lee Clarkson
Detour on Farming Rock Rd to Lee Clarkson Rd & vice-versa
Vehicle weight/axle restrictions (agricultural exception)
Why make Twin Cedars Rd and Lee Clarkson Rd "right turn only"?
This alternative would be a tiny fraction of the monetary and political costs of major construction for lanes and signals. It would solve the safety issues, and improve traffic flow. US Highway 27 traffic could still turn left, but Twin Cedars and Lee Clarkson should be made "right turn only" onto Hwy 27.
Image credit: qPublic.net